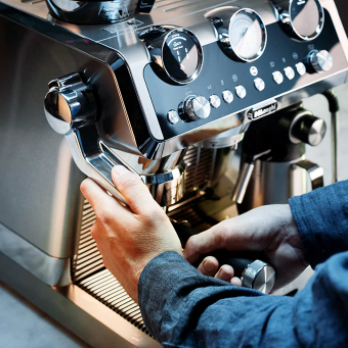 In celebration of International Coffee Day, De'Longhi announced that they will soon be launching their latest masterpiece - La Specialista Maestro.
Designed specifically to suit Australian consumer tastes, this manual machine includes the most optimal parameters and settings to make a perfectly balanced coffee. The Maestro recognises both the artistic craft and the science involved in producing each cup, where users can choose their level of automation and interaction with the machine.
From the grinding, dosing, brewing and texturing, consumers have creative freedom to as to how they make their coffee, whilst benefiting from cutting edge De'Longhi technology for precision and best extraction of flavour.
Features include:
Bean Adapt Technology - Control the grind, dose and temperature to get the best flavour and extraction out of your coffee beans.
Sensory Grinding technology - Eight grind settings with precision adjustment that delivers an even more consistent grind.
Smart Tamping Station - Barista control with variable dosing and consistent tamping, all inside the machine.
Dynamic Preinfusion - An infusion that automatically matches your grind and dose.
Active Temperature Control - Five temperature controls that bring out the full flavour of your beans.
Watch the La Specialista Maestro at play below
Want to find out more? Contact one of our sales team members by clicking here