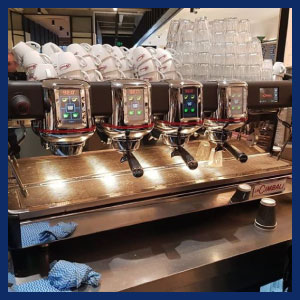 Service Sphere works closely with some of Australia's (and the world's) largest coffee roasters and cafe chains, with the service and supply of coffee machines.
One such customer is Brunetti Café. We have been involved with Brunetti for over 3 years and our team has been working closely with the coffee roaster, Lavazza.
We recently upgrade their two well-known locations, Carlton and Flinders Lane, with LaCimbali M100 4 group coffee machines straight from LaCimbali in Italy to our VIP customer Brunetti Café. These are the first LaCimbali M100 4 groups in Australia.
Coming in at a staggering 120kg empty and are 1217 x 559 x 605 mm, these machines are more than capable of carrying cafes through high volume, packed with LaCimbali technology, suitable for some of the busiest cafes in Australia.
These machines are intended for the very high output cafes, in locations where the machines are not keeping up to the barista's requirements, usually because of a large amount of milk-based drinks. Where the boilers are not able to refill in time. LaCimbali combats this with the smart boiler technology, where the boiler is constantly topped up instead of waiting for the tank to be almost empty.
Aesthetically you can select between the 3 exterior colours including polished aluminium, matt black and gloss white, featuring well-lit LEDs and ergonomic filter handles.
The M100 touch screen command is extremely simple and making multiple beverages at the same time is a breeze with the simple user interface.
You can see these machines in action at Brunetti Flinders Lane & Carlton. Go out and try a coffee and enjoy a meal or one of their famous desserts!
To find out more on the M100 range click here.